Marjolaine Lingerie UK Shop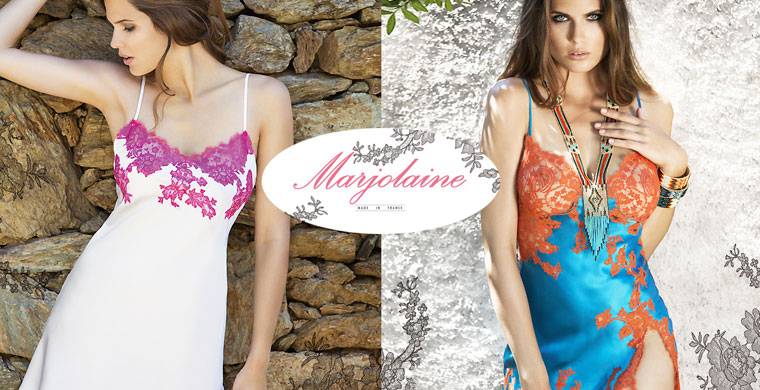 We are not Marjolaine the brand but a top UK retailer of Marjonlaine

Click to see our Marjonlaine products, they are one of the biggest names in the world of quality lingerie and nightwear. Each and every one of their designs is a wonder and a marvel, their ethos is one of the most respected and their reputation is so great that there isn't a lingerie lover or fellow designer who would ignore their impact on the world of design.
The designer we know today as Marjolaine was started in the town of Villeurbanne in France, near the city of Lyon. It is a wonderful place to start any company where design is the most important thing, as Lyon is one of the most beuatiful and majestically designed places in Europe. It is an inspiration to the founder and no doubt a place that has left its mark on the brand. Marjolaine was founded during the interwar period, a trying time for a shop that sold fabrics and garments, as the materials needed were scarce. After the Second World War, it was necessary to source these even more rare materials from all over Europe and travelling abroad, the founder was able to locate beautiful items and fabrics that we would skillfully incorperate into his first lingerie designs. Their new range of nightwear and ladies' underwear was a big hit in the region and these handmade garments of exotic silks and other materials soon become the coveted and in vogue thing to own in Paris.


The Marjolaine name is still owned and run by that same family, which they take immense pride in. They also take pride in the fact that their original ethos of making items mostly or entirely by hand is still honoured. This is even rarer than the fact that their brand is family run for three generations, and both are huge assets that make them something unique and sets them apart from the rest of the lingerie world. Marjolaine are no old fashioned name, however. They are a modern brand as well as a traditional one. With the dawn of the internet, the family that runs Marjolaine have adopted a new approach to selling their items. They are present in teh smallest boutiques and the largest of department stores like Harrods, but they are eager to look at the internet as their next venture. That is why this website and others are needed to help spread the name and history of Marjolaine to everywhere that isn't near Harrods or the Champs Elysses, to those people who love fashion and beautiful lingerie but cannot easily find the kind that they love and adore. Marjolaine.co.uk are here to show you the best of their designs and to tell you a little it more about their range so that you can appreciate the beauty of their work in full. See their stunning and unrivalled photography right here and fall in love with the soft and sumptuous materials that they use in their designs. Find out more about their handmade items and how they approach manufacture and be amazed by their 100 year long history as a designer with the strongest and most robust ethos at their core.